Chichicastenango Adventure
---
Customer reviews

---
Activity Level

Guided Tour Group
Private Adventures available 
---
Book Now!
About the Tour
A representative of Tours Atitlan will meet you at your hotel lobby,
10:30am. -Arriving at the market, known for being one of the biggest and most beautiful markets in all of Central America, Chichicastenango, place where thousands of indigenous people of the surrounding villages, dressed with their beautiful, colorful traditional clothing,
come to the market to buy & sell their products and to celebrate their religious ceremonies, a mix between mayan & catholic beliefs. This takes place right on the steps of the catholic church and in the cemetery. Here you will also see the difference between the Local and Tourist market, later, visit a Moreria where traditional dance clothing as well as wooden masks are made for the traditional dances, also visit the local 400 year old church where the Popol Vuh (mayan bible) was found! While going through the market you will have the chance to do some shopping, later we will head for lunch.
Your chance to
Visit one of the biggest markets in Central America
See the hidden treasures of Guatemala
Learn about the cultural history
Place where the Popol Vuh (mayan bible) was found
See the mix between mayan & catholic religions
What's Included
All Transportation for listed Activities
Professional bilingual guide
Admission fees if required
At a glance
This half day trip excursion is based from Lake Atitlan
 Experience the colorful market through the eyes of a local guide
Visit one of the biggest & most colorful markets in Guatemala
See the mayan ceremonies performed right on the  steps of the catholic church
Visit a moreria- place where the traditional dance outfits are made as well as the wooden masks
What's Not Included
 Lunch
Tips & Gratuities for your guide / driver
Personal expenses
Travel Insurance
 Visas or vaccinations

Chichicastenango Market Tour
Depart from hotel at: 9:00am (1:30 hrs. car ride)
After lunch we will meet our driver and head back to your hotel at Lake Atitlan
Arrival to pana: 15:30pm
Market days are on Thursdays & Sundays
Half day tour
Waterproof jacket in case it rains
Have a copy of your Passport with you
Bring enough cash with you, no credit or debit cards can be used in this village
This market is great for souvenirs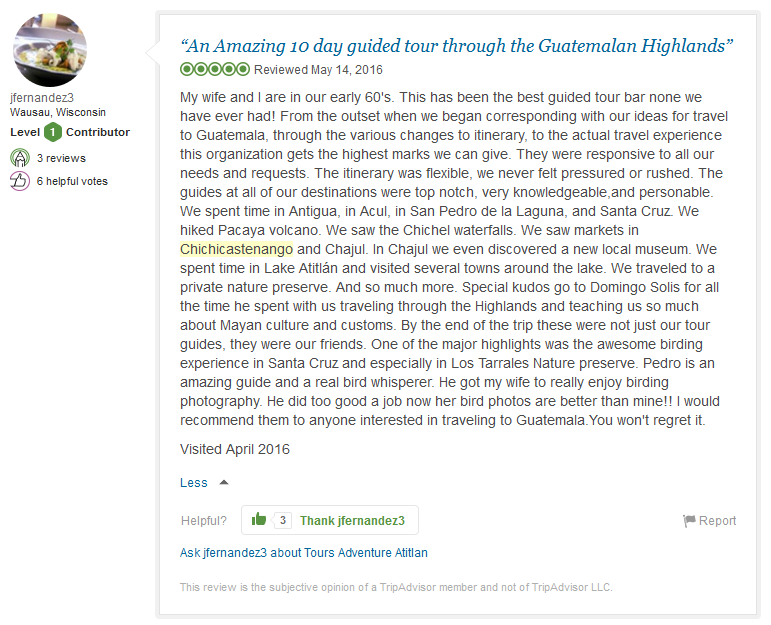 Book Now – Inquire for this Tour