If you love to ride bicyces then Voltan Adventures has the ultimate cycling tours for you. We'll furnish you with our battle-tested mountain bikes and our highly trained tour guide to take you on some of Guatemala's best Lake Atitlan and Mayan Highland bike trails. Take one of our bike trails and see some of Guatemala's most amazing sites.
Our cycling tours can be for singles, couples, or groups. We can make frequent stops and you can meet locals on the trail. Want to bike different parts of Guatemala and do more than just one tour? Save money and experience more with our cycling tours package.
Share your upcoming adventure!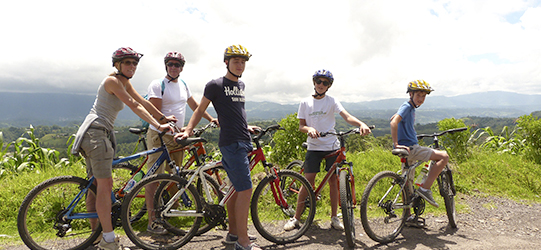 Lake Atitlan Cycling Adventure
This 1/2 day biking adventure takes you around the Lake Atitlan Shore and through two  authentic Lake Atitlan villages. See some of the best views while riding along the beautiful shores of Lake Atitlan.  Your tour includes a bilingual guide on his own bicycle to ride with you. The trail is 13 miles long and at the end of your journey you'll be taken back to your hotel in the back of a pickup truck. <<Learn More>>
Book Now!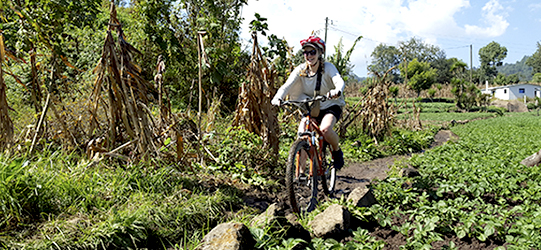 Guatemala Highlands Mountain Biking Adventure
The Guatemalan Highlands are iconic and truly amazing. In the Voltan Adventures Mountain Biking Adventure we'll take you to one of Guatemala's best hidden treasures. On the mountain bike trail you'd see sweeping valleys, local flora and fauna, and we'll pass by a local or two.  <<Learn More>>
Book Now!
El Pico de Cielo Ride Biking Adventure
Experience biking the hills and trails of Lake Atitlan. You'll experience numerous 180-degree panoramic views as you enjoy your ride. We'll shuttle you to your starting point and then you'll embark on your 15 mile (some paved but mostly dirt and single track paths) ride. This tour is for bicyclists who are of at least intermediate riding level/experience. You're bike adventure will also include a bilingual tour guide who will have his own bike to ride along with you. Enjoy this amazing 1/2 day biking adventure! <<Learn More>>
Book Now!