There is nothing quite as exciting as market day in Guatemala! Many womens co-ops, jewelry crafstman, food vendors, family craftsmen, and artisans travel a weekly market circuit. The markets are held in different towns and cities within Guatemala on designated days. Voltan Adventures will take you to some of Central America's largest outdoor markets and educate you on the different foods, spices, seasonings, and textile styles you'll encounter there.
Chose from one of our individual market tours or save money and see more markets by booking a market package tour. We can arrange private transportation to and from the markets along with your own porter to carry the goods that you buy. We can also assist you with the logisitcs of international shipping by connecting you to a local shipping provider who handles all of the paperwork and carrier (UPS/DHL) arrangments.
Share your upcoming adventure!
Available Market & Shopping Tours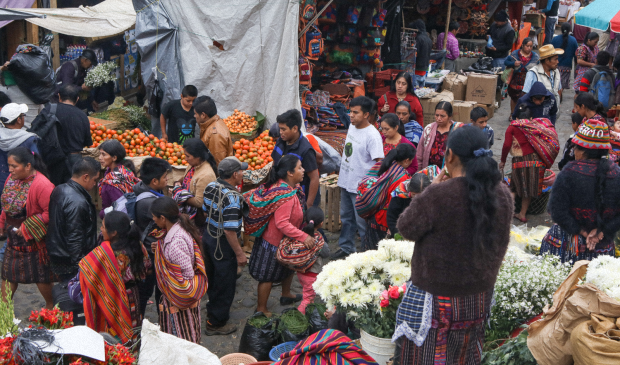 Chichicastenango Market Experience
Every Sunday and Thursday we organize tours to Chichicastenango Market, one of the most beautiful markets in Central America.
Chichicastenango is a town with an incredible collection of Mayan artifacts, surrounded by the authentic adobe houses and the high mountains.
The locals adhere to traditional cultural ideals, the women wearing superb huipiles, with radiant flower motifs.
Many great souvenirs can be found here — from colorful Mayan fabrics and ceremonial masks to genuine leather goods and jewelry. <<Learn More>>
Book Now!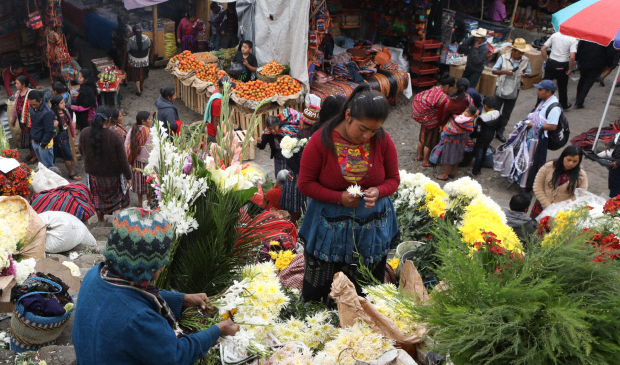 The Ixil Triangle – Chichicastenango – Nebaj – Acul and Chajul Experience
North of Sacapulas via a newly paved road is the Ixil Triangle, a name given to the area comprising the villages of Nebaj, San Juan Cotzal, and Chajul.
The scenery here is spectacular, as are the weavings made by its Ixil-speaking inhabitants. Set in the foothills of the lush Cuchumatanes, the area was the scene of heavy fighting during the country's civil war. Its inhabitants suffered greatly during the violence, undoubtedly more than any other region in Guatemala.. <<Learn More>>
Book Now!
San Francisco El Alto Market Experience
This one-day excursion takes you deep into the Guatemalan countryside to one of the biggest animal markets in Central America. Take photos of this fascinating local spectacle and enjoy the sights and sounds of this incredible place. You'll experience the colorful market through the eyes of your local guide. After the market you'll then visit and enjoy the thermal waters of Fuentes Georginas.
Book Now!
Santiago Atitlan Market Experience
Experience the southern  traditional colorful market in Atitlan. You'll learn the amazing cultural history of the Guatemalan people and we'll visit the famous Effie saint "Maximon." This half-day excursion is based at Lake Atitlan and the tour includes your own private boat with driver.
Book Now!
Sololá Market Experience
It's the Capital of the Department of the same name. This traditional market is held on Tuesday and Friday, which is one of Central America's finest, a mesmeric display of colour and commerce.
People from all over Lake Atitlan and other regions of Guatemala will come here to buy their goods for the week and also main place to meet with other friends and family.
Book Now!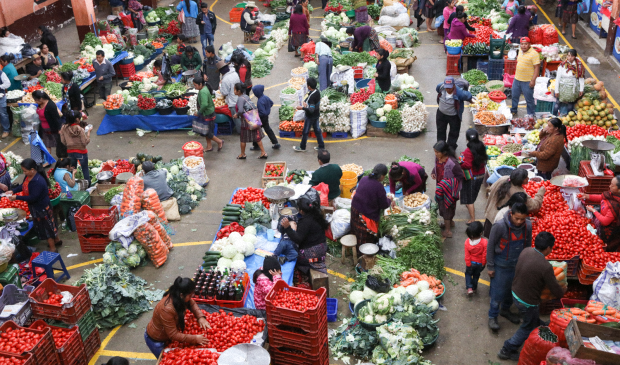 Almolonga Market Experience
This 1 day trip excursion is based from Lake Atitlan or Quetzaltena. You'll travel by private transportation to one of Central America's largest vegetable markets. You'll also visit nearby plantations and then enjoy the natural hot springs of Fuentes Georginas. Take amazing pictures and enjoy the sights and sounds of this incredible location.
Book Now!