Guatemala has some of the most beautiful terrain in the world. From the wide open rolling hills toward the highlands, the green leafy jungles, rich waterways and lakes, mountains of the mayans, and the alien volcanic rock landscape of several of Guatemala's active and dormant volcanoes; Voltan Adventures has your hike covered. The best part is that you are not limited to hiking just in the wild. We offer fun urban treks as well. Listen to one of our seasoned Guides take you through the fascinating history of Antigua as you see the famous arch, parks, churches, and historical buildings.
We offer a wide range of hiking tours and can tailor them to your comfort level. Experience Guatemala with one of tour guide ambassadors who will provide you with great interactions between you and the locals. Gain insights into the Mayan people and their culture. Explore local cuisine and gain access to places where many are unaware exist.
Share your upcoming adventure!
---
Lake Atitlan Tours Available
The Best Lake Atitlan Tour by Boat!

By far this is one of our guest's favorite tour in Lake Atitlan, that offers a wonderful and more complete understanding  of both kaqchike and Tzutujil Mayan culture. During the tour you will experience the visit to weavers cooperatives that work on natural dyes, learn about naïve art of the Tzutujil Mayan People at their home studios, see local markets, the medicinal herbs plantation, plazas and possibly see a Mayan ritual at Maximon in Santiago Atitlan. <<Learn More>>
Book Now!
Lake Atitlan Hiking & Village Boat Tour (Perfect for families)

This is just another extraordinary tour, for everyone who loves nature but still combine with a cultural experience! and well recommended for families. The tour is about 1hr short hike on a very ancient mayan trail, with stunning vistas of the Lake, volcanoes and birds! As you end  the hike you will travel by local boat and visit a local village for a nice cultural experience, learn about local traditions, believes, religion and weaving techniques practiced by our ancestors and much more. <<Learn More>>
Book Now!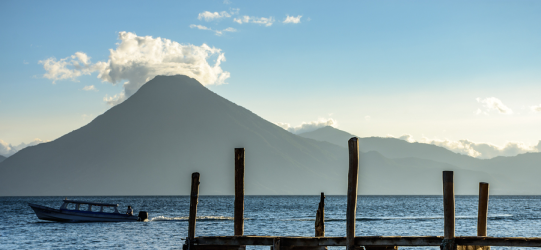 San Pedro Volcano Hiking Adventure
"Volcan San Pedro" is one of the most accessible parks with amazing views in Guatemala, Lake Atitlan, currently it is a dormant Volcano. Incredible hiking adventure experience. feel yourself into nature and great vegetation surrounding this grand volcano, pass through Milpa, avocados, coffee, oak, pine trees and many other growing of the locals. Enjoy spectacular views of lake Atitlan that will give away to a magical day and if we are lucky enough, to the most incredible view of other Volcanoes of Guatemala. This is a full day hike. <<Learn More>>
Book Now!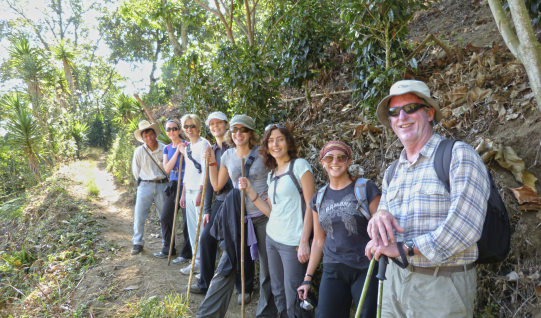 Coffee Trail and Village Tour Adventure
Enjoy one of a kind of hikes in Lake Atitlan. This hike last 2hrs. The hike starts and ends at your hotel. The hike is not difficult, and for all edges and it offers great views of the Lake, get the opportunity to see as many bird species, while having a great introduction of history of coffee in Guatemala and Lake Atitlan. After the hike we also visit a local village for a short cultural tour experience. <<Learn More>>
Book Now!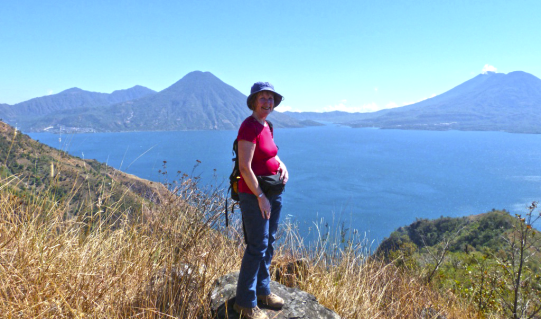 Lake Atitlan Ridge Hike Adventure
Hiking thru the Ridge of el Pico de cielo, is the remaining of the old crater of the famous Lake Atitlan. It is located at an altitude of 2,200 mts. (7217ft) by sea level. The hike offers you a great panorama view of the whole Lake of Atitlan and immense volcanoes.
At the top there will be a small settlement "Maria Linda" very remote village to explore. We then start descending or continue with the hike to a nearby village to and pass thru all the vegetable plantation and see beautiful terraces of local agriculture. <<Learn More>>
Book Now!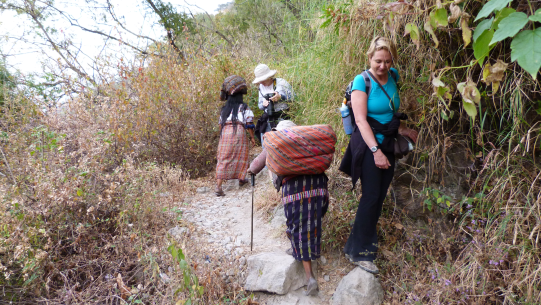 Ancient Jailbolito Trail Hiking Adventure
The El Jailbolito Trail tour begins in Santa Catarina Laguna where you depart for the rugged north shore and remote village of El Jaibalito. The north shore of Lake Atitlán has no true road access, so you will be hiking along ancient paths that have been used by the Kachekel Maya for centuries. This amazing tour offers you unique opportunites to encounter local Mayans heading to town with their weavings and handicrafts.  <<Learn More>>
Book Now!
3 Villages Farming Hiking Adventure
The 3 Villages farming hiking adventure gives you unique insight into how the people of Guatemala feed themselves on their mountain-side, hill, and valley farms. Because of the terrain the typical western farming equipment will not work here. See how the ingenious locals harvest their crops of abundance on a unique cultral hike you won't soon forget.  <<Learn More>>
Book Now!
Lake Atitlan Sunset Hiking Adventure
One of the best location to see the sunset is based in Santa Cruz! Tours Atitlan features one of the best hiking trails and location for this hike.
The hike starts from your Hotel by 3:30pm and returns by 6:30pm. The hike can be arrange for all edges and not to difficult if that is your desire!
Your guide will meet you at your hotel and start the hike for about 1hr maximum just in time to admire the wonderful sunset and the infinite colors reflecting the Lake. <<Learn More>>
Book Now!
Lake Atitlan Sunrise Hiking Adventure
The best views ever of Lake Atitlan can be seen in one of our best trails! A sunrise hike is perfect to photograph volcanoes, the lake and also gives you the perfect opportunity to contact with nature, the bird's songs, the wind and just by seing the smoke of the kitchen and everyone getting up for a new day of work really gives you an experience!
The hike last about 1hr to reach the highest point, it is abour 300mts or 900 feet ascent. The first 20minutes is challenge and then the last 40 minutes is moderate.
It takes about 3hrs in for the whole tour.  <<Learn More>>
Book Now!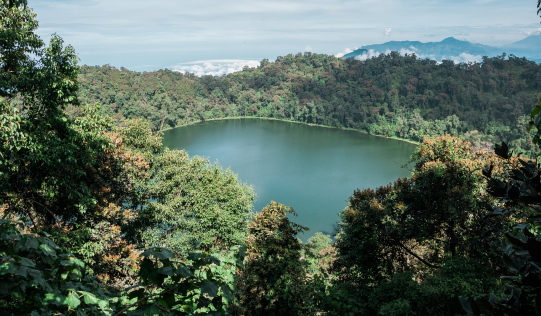 Laguana Chicabal Hiking Adventure
Volcan Laguna de Chicabal is an easy to moderate day hike to a beautiful crater lake. We pick you up at your hotel or host family at 7:00am and drive an hour to the trail head. From there it takes approximately 1 and a half hours to climb to the top at 2,900m (almost 10,000ft) where there is a lookout point to Volcan Santa Maria and Santiaguito. From the summit there is a steep descent for twenty minutes to the crater lake. The lake is surrounded by cloud forest and is a sacred site to the local Mayan-Mam people. There are often religious ceremonies taking place around the lake.  <<Learn More>>
Book Now!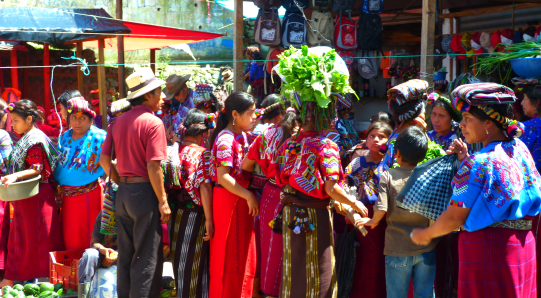 Ixil Triangle Hiking Adventure
The Ixil Triangle Hiking adventure is one of the most immersive and transformative of our tours. We take you to a place where it is green all year long. We visit a Guatemalan cheese farm where some of Guatemala's best cheeses are made. You'll experience the local men and women wearing their traditional hand woven clothing. You'll learn about Guatemalan black salt and we'll visit some of Guatemala's most authentic markets. You'll stay the night at Hacienda San Antonio and we'll depart the following morning. <<Learn More>>
Book Now!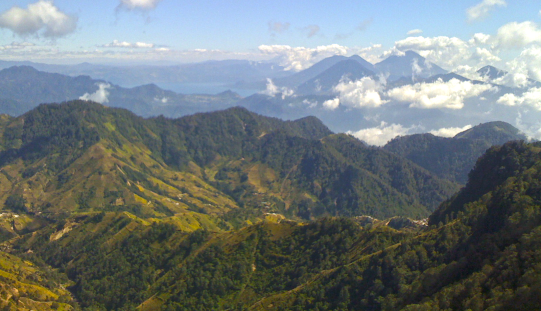 Alaska and Hotspring Trail – Xela Hiking Adventure
Alaska & Hotspring – Quetzaltenango. With the best views and greatest experience comes a price – steep inclines in the heart of the Guatemalan highlands. The Alaska & Hotspring Trail carries the spirit of the raw Alaskan frontier coupled with natural hot springs to reward your muscles for hiking the highlands. This tour is not for the faint of heart but the photographs and experience will reward you for a lifetime. <<Learn More>>
Book Now!
Lake Atitlan Santiaguito Lookout Hiking Adventure
Explore Two charming no turistic villages on the east shore of Lake Atitlan, local school cooperatives, ceramic pottery shops and the best lake view seen from San Antonio! <<Learn More>>
Book Now!